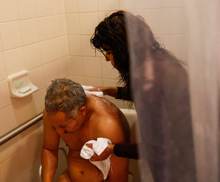 For Mercado's wife, Linda, it's been especially wrenching to leave her husband at the long-term care facility month after month, when he could be home.
"When I leave him over there and I see him through the window, and I wave bye and I throw him a kiss and he throws me a blessing, and I give him a blessing, it just tears my heart," she said. "I don't like to let him see me crying, but once I leave that parking lot, everything comes out."
An Investigation by ProPublica and NPR earlier this month detailed how states across the nation have been dismantling their workers' compensation systems, with disastrous consequences for many of the hundreds of thousands of people who suffer serious injuries at work each year.
In some states, the cuts have been so drastic that injured workers have plummeted into poverty, losing their cars and even their homes. In others, workers spend years battling insurance companies for the surgeries, prescriptions and basic help their doctors recommend.
The five case studies below are emblematic of the bewildering labyrinths injured workers have to navigate as a result of these cutbacks. As attorneys for injured workers are fond of noting, it's no coincidence that Franz Kafka — known for his tales of suffering at the hands of faceless bureaucracies — was once a clerk in the workers' comp bureau of Bohemia.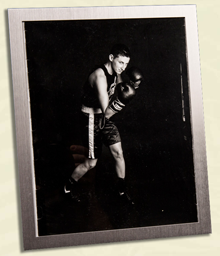 In 1997, Frances Stevens was the editor and publisher of Curve, one of the best-selling lesbian magazines in the country. She was in incredible shape and training for the Golden Gloves boxing tournament.
One day in October, she and her staff were carrying boxes of the magazine's latest issue to a storage closet. Stevens, 30, tripped over an area rug and broke a bone in her foot. She was put in a cast and had surgery.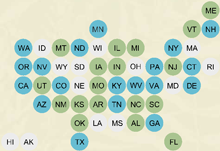 Green states allow employers and insurers to choose workers' doctors, at least initially. Blue statesrestrict workers to doctors approved by their employer, state or insurer or to those in their employers' managed-care plans. Explore the full interactive.
(Source: Workers Compensation Research Insitute)

Christopher Carter's left foot was mangled when it got sucked into a conveyor belt at a gravel pit in Great Falls, Montana, in July 2012.
The 43-year-old mining equipment mechanic went to a podiatrist who recommended a simple, inexpensive remedy: a cortisone injection to reduce inflammation and alleviate the pain, according to medical records.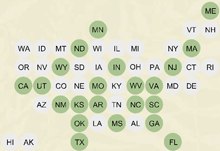 Green states cap temporary wage-replacement benefits after a period of time ranging from two years in California, Florida, North Dakota, Oklahoma, West Virginia and Texas to about 13 ½ years in New Mexico. Some states have had such caps on the books for decades, but several have recently lowered their limits to two years. Explore the full interactive.
(Source: Workers Compensation Research Insitute)
Gary Fury was working at a Simonton Windows factory in West Virginia in July 2012 when a large two-window unit slipped to the floor. Fury bent to help a coworker slide it back onto a cart.
"When I went to pick it up," he recalled, "I felt something pop."
Fury, then 49, had torn his rotator cuff and ruptured his bicep. After trying less invasive treatments, his doctor recommended surgery and warned of poor results if it was delayed.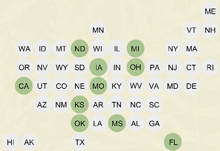 Green states have either raised the qualification standards for workers' comp when a work injury aggravates a pre-existing condition or have reduced the liability of employers and insurers for the full effects of the injuries when other conditions, such as aging, may have contributed. Explore the full interactive.
(Source: ProPublica research on state reform laws)
Brenda Albright spent 16 years as a forklift driver hauling rolls of paper to make cardboard boxes for Smurfit-Stone Container in Fargo, North Dakota.
One day in June 2010, she squatted down to remove a tag from one of the rolls. As she stood back up, she suddenly felt what she describes in workers' comp records as an "extremely ungodly pain."